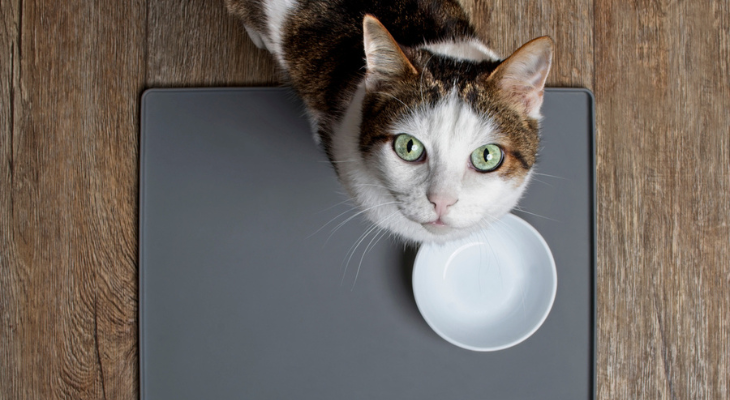 Dry Food vs. Wet Food: Which Is Better for Your Cat?
Choosing the best type of food for your cat is a surprisingly difficult decision. After all, every food manufacturer claims their food is tasty, nutritionally sound, and adored by all cats. How do you tell which food is the right choice for your favorite feline? Taking a look at these pet food benefit comparisons could make your decision a little easier.
Wet Food Benefits
Feeding your cat wet food could:
Increase Water Intake. The water in wet food helps your cat meet its daily water requirement and avoid dehydration. Water is essential for good urinary tract health and may possibly lower your pet's risk of kidney disease and other ailments. Wet food contains as much as 80% water, according to Cornell University College of Veterinary Medicine. The College notes that cats should drink four ounces of water per day for every five pounds of lean body weight. Cats that eat wet food will need to drink less water than those who eat dry food.
Keep Your Pet's Digestive System Running Smoothly. The high-water content in wet food can make it easier to pass feces and may help prevent constipation.
Help Your Pet Avoid Weight Gain. Wet food contains fewer calories than dry food, which could help your pet maintain a healthy weight. Of course, the amount you feed your pet matters too. If you don't follow feeding recommendations and put too much food in your cat's dish, it could still gain weight.
Dry Food Benefits
Dry food offers several benefits including:
Convenience. Dry food doesn't need to be thrown out or refrigerated if you pet doesn't eat it in an hour or two. It can also be added to automatic dispensers or placed in toys that dispense food and treats.
Cost. Dry food may be a little less expensive than wet food, depending on the brand.
Better Oral Health. You may have heard that dry food is better for your pet's teeth. The truth is that both wet and dry food can cause plaque buildup on the teeth, according to Tufts University School of Veterinary Medicine. If you want to protect your pet's oral health, you'll need to buy dry food that's specifically designed to reduce plaque. The Veterinary Oral Health Council includes five pet food brands on its list of accepted products. They include Science Diet Oral Care for Cats, Prescription Diet t/d, Healthy Advantage Oral+ for Cats, Royal Canin Feline Dental Diet, and Purina Pro Plan Veterinary
Choosing Between Wet and Dry Food
Both wet and dry food can be good options, as long as you choose foods high in nutrients and low in fillers. High-quality foods list proteins (meat, poultry, fish) in the first five ingredients on the label. Cheaper foods use a greater percentage of fillers, like cornmeal, beet pulp, and yellow corn, and skimp on protein. Look for food that meets nutritional standards recommended by the Association of American Feed Control Officials (AAFCO). Foods that meet AAFCO guidelines include a statement on the product label.
Fillers in dry food increase the carbohydrate content of cat food, which may make it easier for your cat to gain weight. If your cat is a little overweight, strictly following suggested daily feeding amounts and removing your cat's food dish between meals could help your pet stay thin and healthy.
Of course, food choice isn't entirely up to you. Just like people, pets have food preferences. While one cat may enjoy wet food, another may refuse to eat anything but dry kibble. Keeping your pet fed, whether you offer dry or wet food, is more important than the type of food served.
If you'd like your cat to reap the benefits of both types of food, a mixed diet may be a good option. If your pet turns its nose up at wet food, try mixing a little wet food with the dry food. Small portions of either wet or dry food may also be offered in addition to your pet's usual diet. If your pet doesn't like a particular wet or dry food, try a different flavor or brand.
Not sure which type of cat food is best for your pet? We'll be glad to help you find the healthiest choice for your furry friend. Contact our office to schedule an appointment or ask your questions.
Sources:
Cornell University College of Veterinary Medicine: Hydration
https://www.vet.cornell.edu/departments-centers-and-institutes/cornell-feline-health-center/health-information/feline-health-topics/hydration
Association of American Feed Control Officials: Selecting the Right Pet Food
https://www.aafco.org/consumers/understanding-pet-food/selecting-the-right-pet-food/
Veterinary Oral Health Council: VOHC Accepted Products for Cats, 2/2023
http://www.vohc.org/VOHCAcceptedProductsTable_Cats.pdf
Tufts University Cummings School of Veterinary Medicine: Pet Dental Health: Fact or Fiction?, 2/1/2023
https://vet.tufts.edu/news-events/news/pet-dental-health-fact-or-fiction
PetMD: Wet Cat Food vs Dry Cat Food: Which Is Better?, 1/19/2021
https://www.petmd.com/cat/nutrition/wet-cat-food-vs-dry-cat-food-which-better